The publication of blueprints for 3D-printed plastic guns was put on hold as U.S. District Judge Robert S. Lasnik in Seattle granted an
emergency motion Tuesday for a temporary restraining order (TRO)
filed by a coalition of states and the District of Columbia.
The TRO was filed in response to a settlement secured in a federal district court in Texas last month between the U.S. government and Defense Distributed, an Austin, Texas, nonprofit founded by Cody Wilson that has been trying to sell blueprints for so-called ghost guns online. A previous
TRO motion, filed on July 25 by gun-control advocates including
 the Brady Campaign to Prevent Gun Violence, Everytown for Gun Safety Action Fund and the Giffords Law Center to Prevent Gun Violence, was rejected by Western District of Texas Judge Robert Pittman in Austin.
The controversy stems from a lawsuit filed in 2015 by Defense Distributed and the Second Amendment Foundation (SAF) against the State Department in response to a May 2013 letter from President Obama's administration warning that Defense Distributed may have released sensitive technical data without authorization from the Directorate of Defense Trade Controls (DDTC).
"Initially, the Trump Administration was fighting against it, but suddenly there was a reversal and the U.S. government, acting through the State Department, settled the lawsuit," said Paul Helmke, professor at Indiana University's School of Public and Environmental Affairs (SPEA) and former president of gun-control lobbyist Brady Campaign. "This settlement, which no one knew about, changes U.S. policy without going through the proper channels. Congress didn't add to it, and there was no administrative procedure where a proposed rule is posted and people comment."
Were it not for yesterday's TRO, the settlement would have allowed Wilson's organization to begin posting and selling the downloadable plans online today, August 1.
"For unknown reasons, the Federal Government has put the country in a clear and present danger of the irreversible proliferation of untraceable and, if made with non-metal components, undetectable guns," wrote attorneys for the states in their 
July 30 pleading
.
Defense Distributed and SAF Attorney Joshua Michael Blackman declined
PacerMonitor
's request for comment.
The U.S. State Department 
opposed
 the TRO, arguing that a "possibility" of irreparable harm is insufficient.
"Plaintiffs appear to argue that they will be irreparably harmed by Defense Distributed's publication of the subject files because such publication will undermine their ability to enforce their public safety laws," wrote Department of Justice Attorney Eric Soskin. "But neither the facts nor the law support this claim here, where there has been no change in the application of federal law to the distribution of the subject files domestically and where Plaintiffs concede the speculative nature of their harms."
On the surface, Soskin's brief doesn't reflect President Trump's position on the matter. Mr. Trump tweeted Tuesday morning that allowing the guns to be readily available to the public "doesn't seem to make much sense."
The DOJ declined to comment to
PacerMonitor
.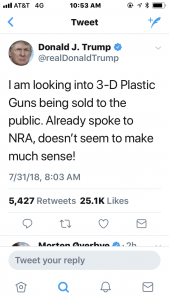 Dr. Pamella Seay, professor of justice studies at Florida Gulf Coast University, expressed skepticism about the viability of the states' argument.
"The Defense Distributed complaint sought a declaratory judgment, meaning an interpretation of the existing law and the applicable constitutional principles under the 1
st
 Amendment," said Ms. Seay. "As long as the individual is not distributing or selling the weapons, there is no need to register or be licensed as a manufacturer unless the individual's state has a separate law requiring it," continued Ms. Seay. "So, if a person is permitted to build a gun on their own – very likely using plans they may have purchased, borrowed, or downloaded – why would they be restricted from buying the plans to make one using the newest technology of 3D printing?"
Gun-control advocates maintain that once published the plans will forever be on the internet, unable to be eliminated entirely.
H
owever, some scoff at the notion that the danger the
blueprints represent isn't already present in American society.
"It has been determined that the AR15 gun is plastic and is undetectable by metal detectors in public government buildings and airports and cannot be traced by local law enforcement," said Jacqueline Weiss, a law clerk with Pardalis & Nohavicka Lawyers in Manhattan, adding that the bigger question is how an exemption for one gun group could come to pass without even having legislative hearings with the House or Senate Affairs Committee.
"In light of the Parkland and Sandy Hook School Shootings, these guns could easily be printed out and produced by teens who could then be indoctrinated into terrorism by terrorist groups," Ms. Weiss noted.
Peter Berlin, a criminal defense attorney in Los Angeles, makes a similar argument about the technical specifications of 3D guns, noting that some weapons such as Glock pistols, though detectable, are polymer-based and already have few metal components.
"Moreover, the belief that one will be able to control the dissemination of 3D printing, schematics and related information, strikes me as similar to the recording industry's unsuccessful efforts to prevent digital content from being disseminated and shared," Mr. Berlin said.
Gurbir S. Grewal, attorney general of New Jersey, 
sent a cease and desist letter to Defense Distributed on July 26
threatening legal action if the company did not halt efforts to proceed with publication.
"T
he files you plan to publish offer individuals, including criminals, codes that they can use to create untraceable firearms—and even to make assault weapons that are illegal in my state," wrote the chief law enforcement officer of New Jersey. "These computer codes are a threat to public safety, and posting them violates New Jersey's public nuisance and negligence laws. These files allow anyone with a 3D printer to download your code and create a fully operational gun."
Los Angeles City Attorney Michael N. Feuer sent a similar
letter on July 29 stating
, "I have reviewed a settlement agreement purporting to resolve the litigation. Under the agreement, the plaintiff Defense Distributed is allowed to publicly upload blueprints of firearms and firearm components to the internet so that any terrorist, violent felon, domestic abuser, mentally ill individual or minor with access to the internet and a 3D printer may create completely untraceable  and undetectable guns  and gun components including do it yourself semi automatic weapons." 
Not to be outdone, 
Defense Distributed opened a new lawsuit
 in the Western District of Texas against Mr. Grewal and Mr. Feuer on July 29, alleging the two are waging an ideologically fueled program of intimidation and harassment.
"Alas these state and municipal officers from across the country cannot veto Defense Distributed's constitutionally-protected and federally-licensed speech," wrote Blackman in Defense Distributed's pleading. "The Defendants' threatened legal actions violate the First Amendment speech rights of Defense Distributed and its audience."
The case is currently pending in Texas federal court and so is the lawsuit filed by the states of Washington, the District of Columbia, Maryland, Connecticut, New Jersey, New York, Oregon, Massachusetts and Pennsylvania in Seattle district court.
For now, the publication of those files is illegal under federal law due to Judge Lasnik's signature on the TRO. A hearing is scheduled for August 10.