Over 200 breach of insurance coverage contract suits, mostly related to business interruption claims, have been filed since March, according to Pacer Monitor's proprietary database of Federal court filings. With little sign that the pandemic's impact on businesses will lessen in the months to come, we expect that insurance companies will face an increasing tide of litigation stemming from their alleged failure to pay out under business interruption insurance policies. As we discuss below, tens of billions of dollars are at stake for the industry.
Taking the umbrella away when it starts to rain
After many years of writing checks for coverage to protect against shutdowns, companies slammed by the pandemic understandably expected payment from their carriers to help compensate them for lost business. But almost universally, insurers have denied the claims on the grounds that interruptions due to viruses were not covered by their policies. This is contestable in many cases, resulting in a flood of litigation. After initially peaking in May, the pace of filings has fluctuated around a lower level (Figure 1). However, the recent surge of cases noted below indicates that number of insurance-related filings could well begin to rise again.
Figure 1: Insurance contract-related Federal court cases with mentions of Covid-19 (2020)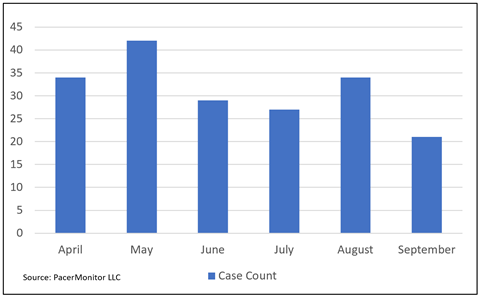 Billions at risk under business interruption policies
There is an enormous amount at stake for the insurance industry. Media reports estimate that carriers already face $40 to $80 billion in business interruption claims payments related to Covid-19 in the US. But this is dwarfed by the potential additional exposure stemming from litigation over denied claims.
Figure 2 shows the industry's estimate of monthly payments under business interruption policies if exclusions for virus and bacteria coverage were removed from policies for small and medium-sized enterprises (SMEs). This is a purely hypothetical exercise, of course. But it does provide a useful estimate of insurers' potential exposure to litigation losses, since the scenario is functionally the same as if every entity with business interruption coverage sued their provider and won.
Figure 2: Estimated monthly Covid-related payments to SMEs under business interruption policies (without virus exclusions)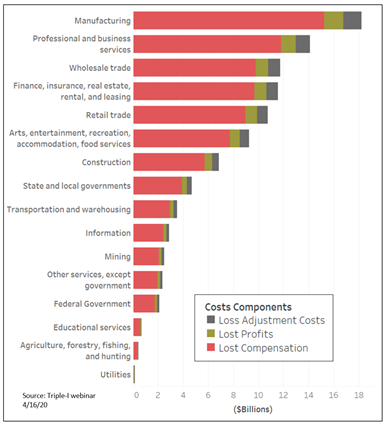 The estimate of potential exposure by industry varies widely. Manufacturing leads the pack with an $18 billion estimated monthly payment rate, followed by services, wholesale trade, finance, and retail trade. The exposure for other industries, such as utilities, is close to zero. The ranking likely reflects a combination of the volume of business interruption insurance written by sector and the degree to which each has been impacted by the pandemic. Consistent with this, PacerMonitor's case list includes famous retails names such as Ralph Lauren and Century 21. The latter, a New York retail icon, was driven into bankruptcy by the refusal of its business interruption insurance carriers to make payments under their policies.
The pandemic is far from over
After declining from its peak in July, the count of Covid cases in the US has rebounded, coinciding with the reopening of schools, universities, and businesses (Figure 3). The Figure includes the comparable case count for Germany. Although Germany has also seen a rapid rise in cases for the same reasons, its overall experience remains much better than the US, illustrating how far we have to go in containing the pandemic to the point that economy can resume something close of a normal level of activity. The unfortunate takeaway is that individuals and businesses will continue suffer from the pandemic's effects for the foreseeable future. We thus expect the pace of litigation of non-payment under business interruption insurance policies to continue as well.
Figure 3: New Covid-19 cases per million population in the US and Germany (smoothed)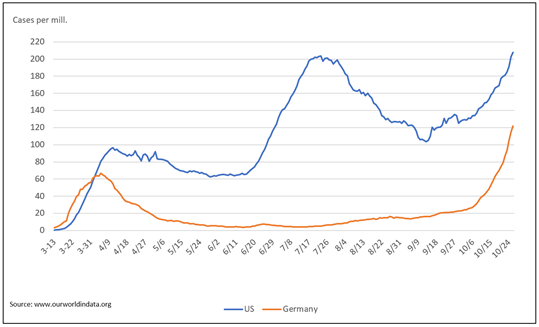 How we compiled the list of cases
PacerMonitor LLC's proprietary database of Federal court filings contains over XX million case records dating from 20XX. The database contains XX fields for each case and is searchable by attributes including court, state, filing date, and nature of suit, as well as by keywords.
We used PacerMonitor's RESTful API to compile the list of cases by querying the database for records covering a specific time period, that have mentions of Covid-19 and similar terms for the pandemic, and that involved insurance contract disputes.
The API provides easy integration of PacerMonitor's database into client workflows. With it users can build custom data feeds, create legal analytics, handle complex research, and eliminate manual processes. The API is fully scalable and has an extensive library of Python applications and templates.
For more information, please visit us at www.pacermonitor.com, email us at support.pacermonitor.com, or call 1-800-876-0695.